If there's one thing New Zealand is famous for, it's throwing yourself off or out of something. Whether it be ledges, planes, cliffs or bridges, you can't go too far in our little country without experiencing an adrenaline rush and a story to go with it. Two of the most iconic activities in NZ are of course bungy jumping and skydiving. But what's the difference between the two? And which one is scarier? Read on!

Throw yourself OFF something! Bungy jumping:
Bungy jumping in New Zealand is about as legendary as the All Blacks. Here's all you need to know about the crazy activity.
It takes some courage. You need a mixture of courage and crazy to throw yourself off a platform with a giant rubber band tied around your ankles. You can be as nervous as you like but when it comes down to it, you can't rely on anyone else to give you a nudge. YOU are the one that has to leap!
Need some support? Try it as a tandem! You can rope in a friend to share the screams and smiles.
Forwards or backwards, it's up to you which way you jump!
Get dunked! When you jump with Taupo Bungy, you can choose to get dunked in the crystal clear waters of the Waikato River below! Did you know Taupo Bungy is New Zealand's highest water-touch bungy? They can dunk you from your fingertips all the way to your ankles (not recommended with a skydive!)
The leaping feeling is incredible. You'll get an awesome ground rush as you plummet head first downward. Because of this, many think its scarier than a skydive (but we'll leave that up to you to decide!).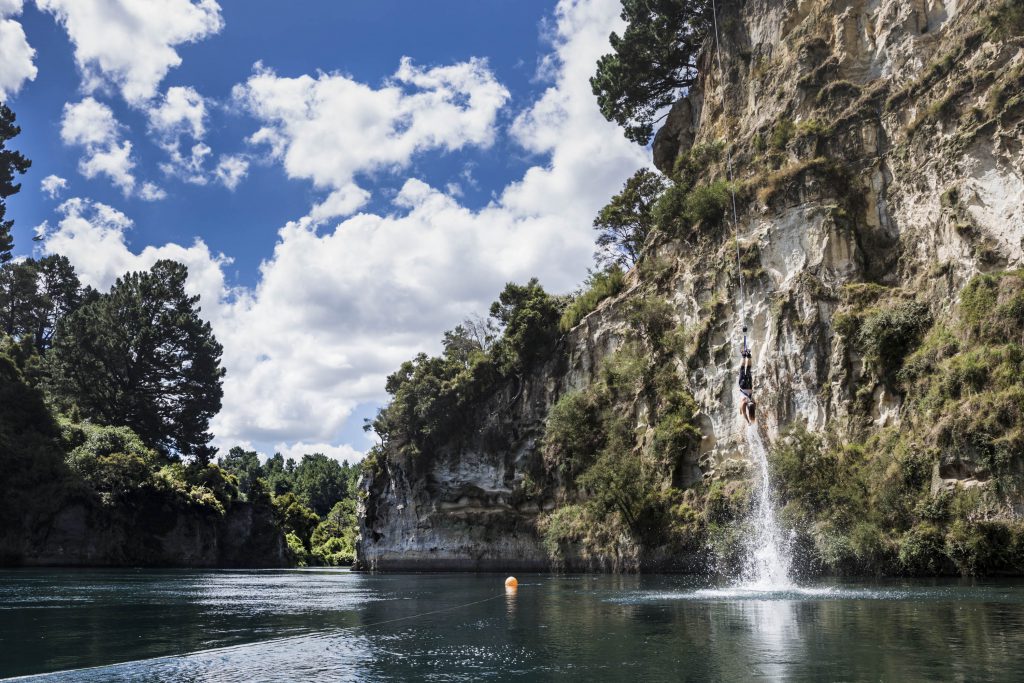 Throw yourself OUT of something! Skydiving:
If jumping out of a plane is at the top of your bucket list, you need to do it in New Zealand's home of skydiving – Taupo! But what makes it different to a bungy jump?
Every skydive is as a tandem. Unless you are an experienced skydiver, you must skydive with one of our highly trained tandem masters. That way, you get to enjoy every part of the jump while your tandem master does all the technical work – easy!
It's a three part journey. It's true that free fall is the most talked about part of skydiving, but there's more to it than that! First, you'll take a stunning plane ride up to altitude where the nerves will really set in. Next, your tandem master will push you both out of the plane into free fall. Finally, you get a gentle and relaxing parachute ride back to earth where you get to soak up the euphoria of your free fall.
The sensation of free falling can't really be described. It's exciting, scary, energizing, crazy and calming all at the same time.
The hardest part about skydiving is the decision to do it. The anticipation leading up to it is definitely the most nerve wracking part. Trust us!
The awesome thing about skydiving is that anyone can do it. We have no age limit at Taupo Tandem Skydiving as long as the person fits the harness.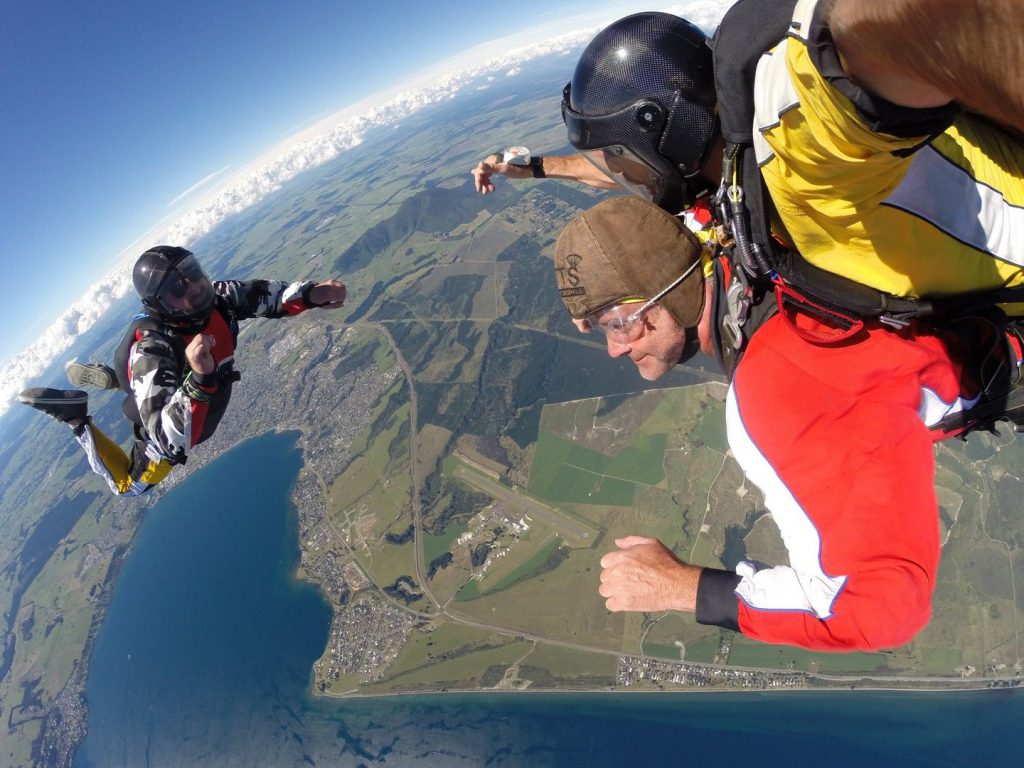 There you have it. Whether you're throwing yourself off or out of something, the adrenaline rush of bungy jumping and skydiving in Taupo a must-do! The feeling when you land back on two feet is worth every bit of nerves.
If you can't choose which activity to do then go why not go all out and do both! Our Air Extreme package combines a 47m bungy with Taupo Bungy and a 15,000 ft skydive for those who really want to embrace the YOLO! Check it out here.