15,000 Ft Skydive with Taupo Tandem Skydiving
Get ready for all the thrills with a skydive from 15,000 ft! Your skydive begins with a scenic plane ride where you'll see incredible views of Lake Taupo, Mount Ruapehu and on a clear sunny day, you'll be able to see from coast-to-coast of the Central North Island – all the way from Mount Maunganui to Taranaki!
As we climb higher, the anticipation will start growing with each passing moment. Then we'll open the plane doors and you will see just how majestic NZ looks like from above. Your tandem master will be seated right behind you and when he gives the signal….it's time to jump!
You'll jump into the skies and experience the craziest 1 minute of your life! Free falling for almost 60 seconds with speeds reach up to 200 km/hr – experiencing pure adrenaline-induced thrill. It's going to be one unforgettable jump.
When it's time, you'll begin your journey back to earth, parachuting and taking in astonishing views of Taupo. You'll then arrive at the drop zone, safe and sound, with your mind still trying to comprehend that you just jumped from 15,000 ft!
Don't forget to capture the moment with one of our awesome camera packages!
NZ public holidays will incur a 15% surcharge on skydives, video/photo packages will not be effected by the surcharge.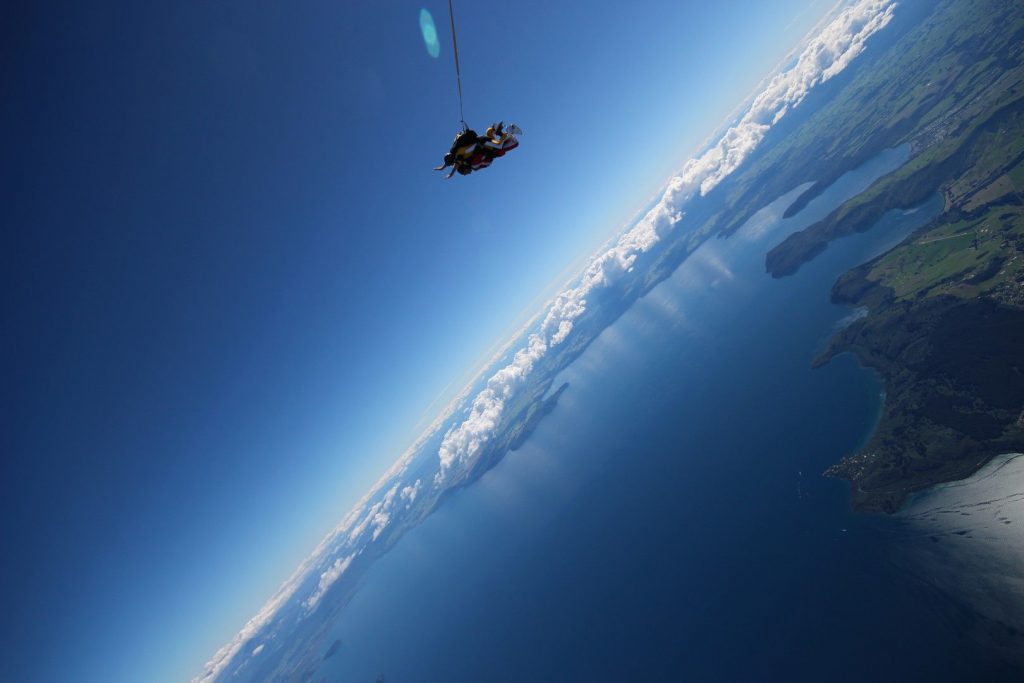 Book your jump with Taupo Tandem Skydiving to have the craziest time skydiving in New Zealand.
Choose your 15,000 Ft Jump Skydive Package from the below options!
Reviews
I skydived in South Africa and had a great experience, but this time was 100x better because of how they run their shop and how ...