Tiaki means to care for people and place.
What is the Tiaki promise?
New Zealand is precious, and everyone who lives and travels here has a responsibility to look after it. The Tiaki Promise is a commitment to care for New Zealand, for now and for future generations. By following the Tiaki Promise, you are making a commitment to New Zealand. To act as a guardian, protecting and preserving our home.
Nau Mai, Haere Mai Ki Aotearoa, Welcome to New Zealand.
The Tiaki promise is broken down into these categories.
WHILE TRAVELLING IN NEW ZEALAND I WILL:
CARE FOR LAND, SEA AND NATURE, TREADING
LIGHTLY AND LEAVING NO TRACE
TRAVEL SAFELY, SHOWING CARE AND
CONSIDERATION FOR ALL
RESPECT CULTURE, TRAVELLING WITH AN OPEN
HEART AND MIND
HOW TO CARE FOR NEW ZEALAND
By following the Tiaki Promise you are making a commitment to New Zealand.
Drive Carefully | Be Prepared | Show Respect
What does this mean to TTS?
The environment is extremely precious to us here at Taupo Tandem Skydiving. We feel extremely lucky to the call Taupo our backyard, our office, and our home, so we want to do our best to ensure it stays the beautiful place that it is. This is why we have initiatives in place to help protect, preserve and enhance this home. Some of these initiatives include:
Monitoring fuel of our airplanes and reducing our usage where we can
An onsite recycling centre for our staff and our visitors
Digital photo/video packages
Handy 'care for NZ' tips on our paper bags
Local community engagement in terms of sponsorships for charity and sports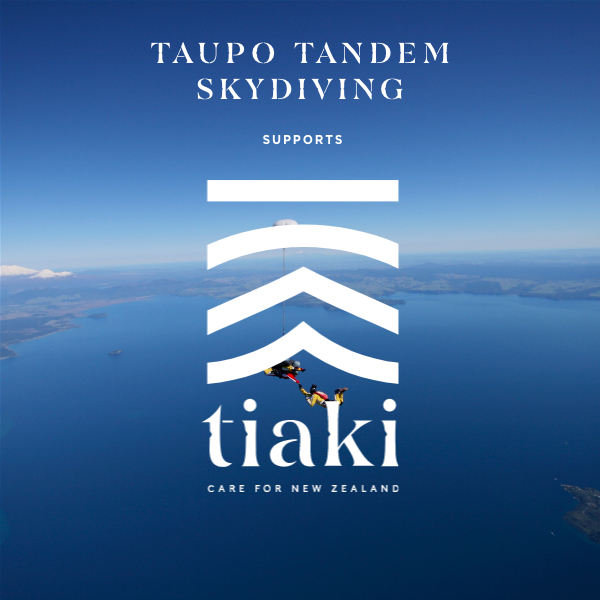 We love Taupo and want to share it with others, which is why we are super passionate about ensure both visitors and locals take care of it during their time here. You can find our more information and help support the Tiaki promise here.