Take to the skies above Lake Taupo and check it out from a birds-eye view.
This incredible package combines a scenic helicopter flight, followed by a 15,000 ft skydive!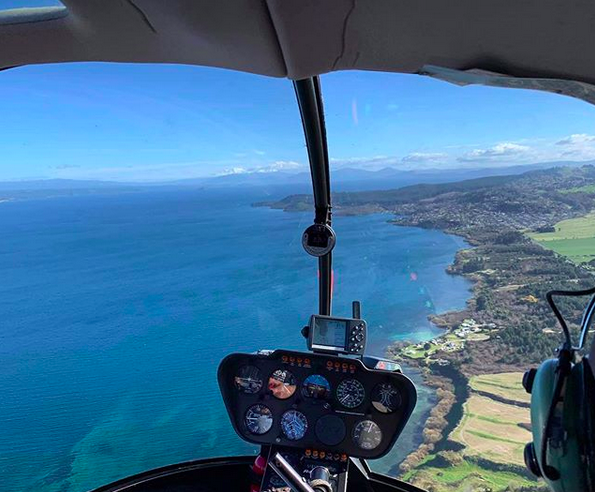 PART 1: 1pm – Scenic Helicopter Flight 
Your experience starts with the legends at Heli Adventure Flights. Next, you'll step into the helicopter where your pilot will take you on a stunning scenic helicopter flight above Lake Taupo. Take in some of the iconic Taupo sights including the mighty Huka Falls, the Craters Geothermal Park, the Taupo boat harbour and the famous Maori Rock Carvings.
After a spectacular 12 minute helicopter ride, you will be dropped you at the Taupo Airport where you'll board your next aircraft… a skydiving plane!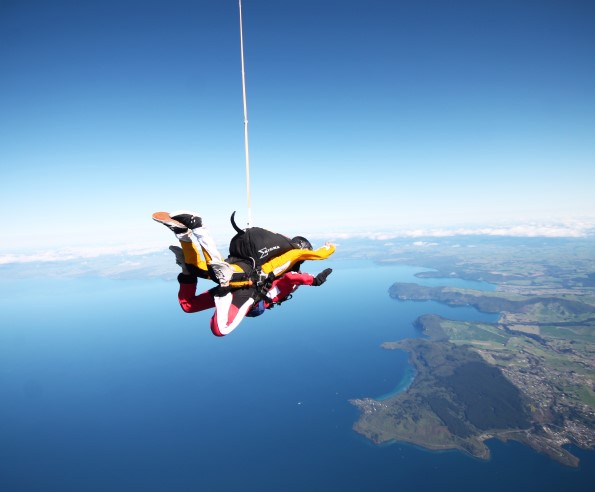 PART 2: 2pm – 15,000 ft Skydive
Upon landing at Taupo Airport, the skydiving team will greet you and get you suited up for a skydive! Watch a safety briefing video, meet your tandem master, and then board the plane. You'll take a 15 minute plane ride up to 15,000 ft. On the way up, take in views of Mount Ruapehu, Mount Ngauruhoe from Lord of The Rings, as well as the sheer size and beauty of Lake Taupo. Once at altitude, the doors will open, and you and your tandem master will leap out of the plane. Freefall for up to 60 seconds above incredible Lake Taupo and enjoy the adrenaline rush!
After the freefall, your tandem master will pull the parachute and you'll then get to enjoy a scenic ride back to the dropzone.
Once you've got your breath back, we'll transport you back to your local accommodation or Heli Adventure Flights base in our stretch hummer where you can relive your awesome afternoon of adventure!
JUST $608! Whats included?
– 12 minute Helicopter Flight
– 15,000 ft Skydive with TTS
– Free Exit Photo of Skydive
– Transport from Taupo Tandem Skydiving back to Heli Adventure Flights base or your accomodation
An upgrade to a 16,500 ft skydive is available at the dropzone.
T&C's: Minimum 2 passengers per booking.
Reviews
If you're going to throw yourself out of a plane anywhere make sure you do it in Taupo and do it with TTS!!